I have been a long-time Gmail user and prefer using their web interface for my personal email, which I love for a number of reasons. For instance, when receiving a new reply to an archived email, the entire conversation is always shown, regardless of where the individual emails are located.
On the professional side of things, I use Apple Mail, which I am sorry to say is starting to get fairly outdated. It does not have the above mentioned feature where email replies are automatically shown together regardless of location. It doesn't even support using SSL client certificates for connecting to the email server. The latter can fortunately be remedied by using stunnel as a proxy.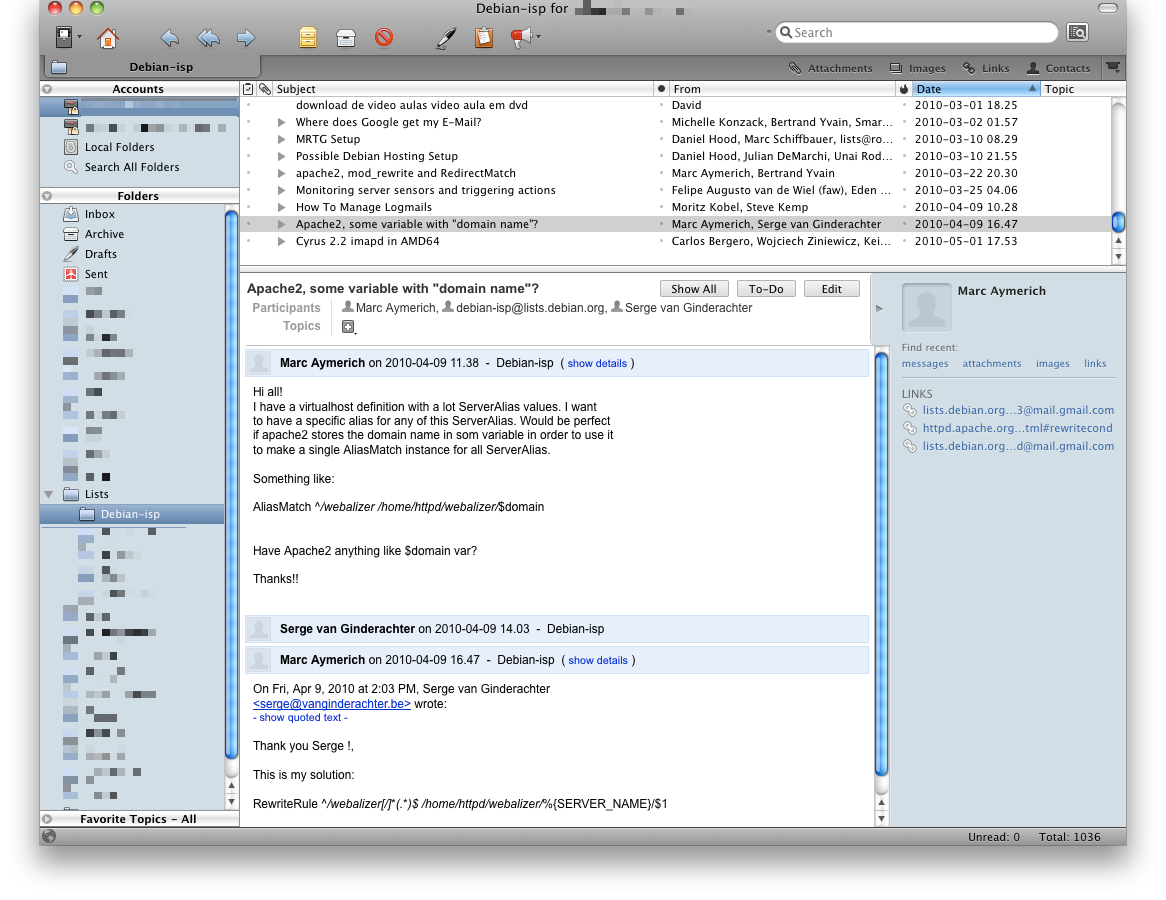 I have used Thunderbird ages ago, so I decided to install the new version and add both my personal and professional email account and see what has happened these last major versions. To my surprise, Thunderbird has been cleaned up considerably and has lots of new features like tabs, smart folders and a unified inbox.
The coolest new feature in Thunderbird 3 has to be the new search interface. It is just a beauty to see the data mining ability and the ease of refining the search terms as you go. There is for instance the possibility to visually drill down on the year, month and day to find just the thing you are looking for.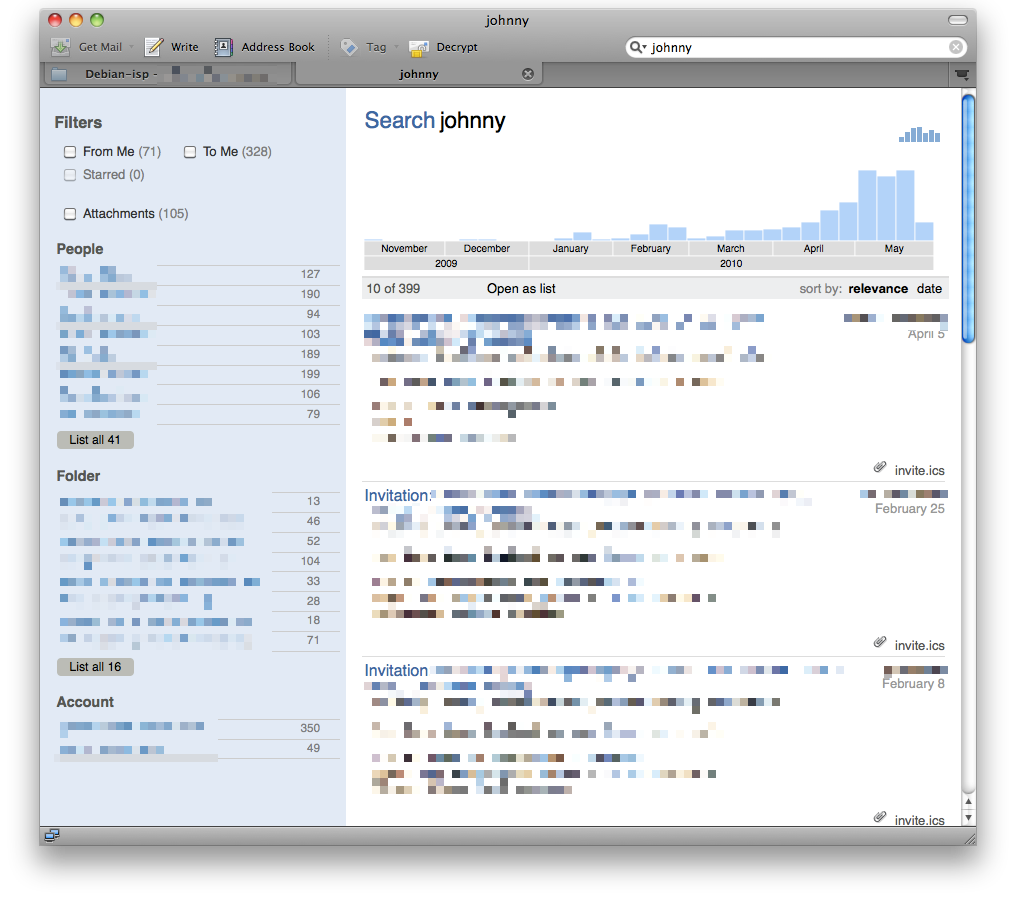 Then I recalled trying out Postbox a while ago when it was in beta. It is a commercial fork of Thunderbird, with its own unique set of features and looks, and although many Thunderbird plugins work with Postbox, not all do. I ended up giving this some thought.
What can a commercial company do with Thunderbird that the Mozilla foundation can not do themselves?
I decided to yet again give it a go. The installation is as easy as it can be on the Mac -- just drag the application to the applications folder and you are done. The account set-up was super easy, with most things detected automatically, and that even includes the work account. Being a Thunderbird derivate, I knew that it would support SSL client certificates, so I just added mine and it worked instantly.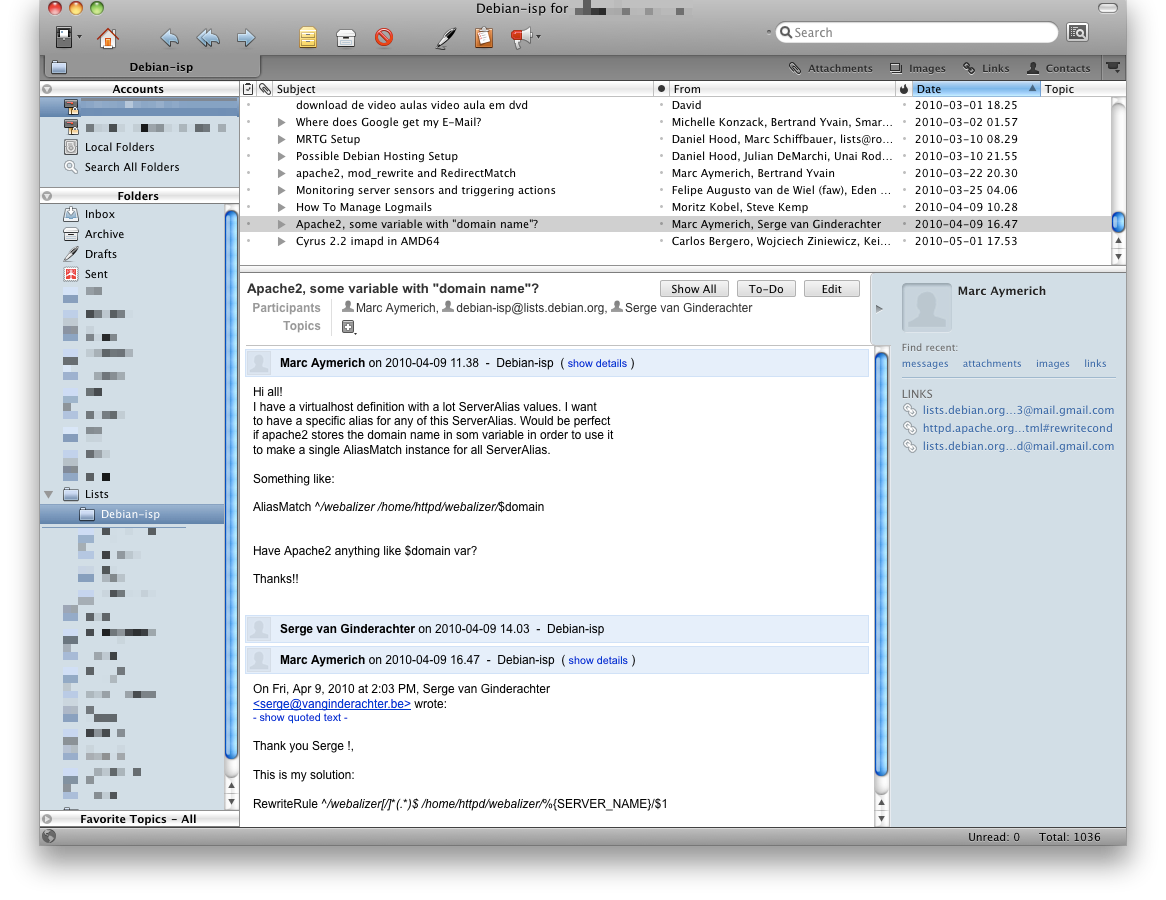 The interface of Postbox looks a lot like Thunderbird, but there are some not-so-subtle differences too. First of all is the polish -- Postbox looks and feels more like a commercial product with its clean interface and modern color palette. The only interface section I liked better in Thunderbird is the main toolbar, which is a lot cleaner. It mostly has to do with Thunderbird having support for showing button labels beside the icons instead of below. That small setting makes all the difference in the world, esthectially speaking.
The first technical thing I noticed was that there is only one folder view -- you have your accounts on the top, and the folders (including the inbox), changes below depending on the account you select at the top.
I am not a big fan of unified inboxes, and I had a hard time finding a view I like in Thunderbird (not to mention Apple Mail). Postbox, while only having this single view, get how people work with email. Having personal and professional mail in the same unified inbox just adds to the clutter and distractions we try so hard to get rid of.
Making the accounts completely separate is the perfect recipe for me, and lets me focus on one thing at a time, while not being distracted by Facebook alerts or Twitter messages and other things that may pop up in my personal inbox.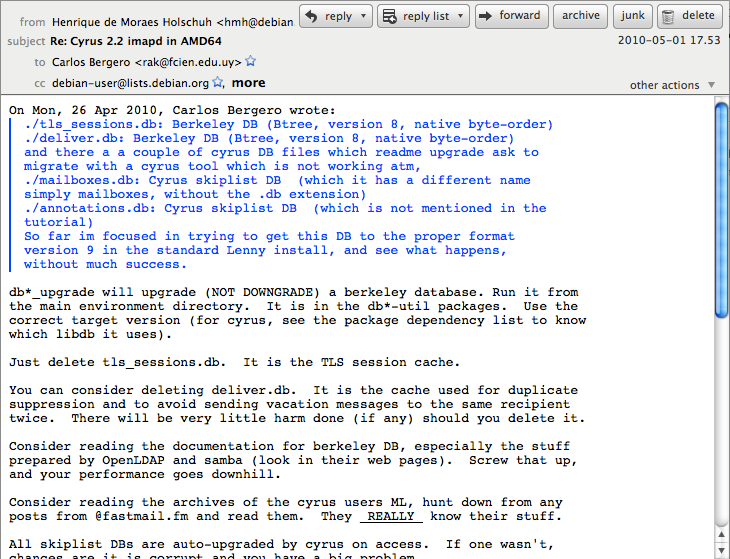 The conversation view in Postbox is excellent too. It works exactly like in Gmail, with collapsible replies and a beautiful interface. There is also this thread and message summary to the right of the message which collects all links, photos, files and other types of attachments for easy access.
Postbox for some reason, even has integrated support for posting to Twitter and Facebook. While I would use a dedicated application for this like Tweetdeck or Echofon, I will definitely try it out and see what they have done with it.
A last thing to mention about Postbox is the built-in tagging support. If you would like to tag email with certain action tied to them like "Follow Up", "Waiting For" or other tags, it is possible to do so without having to resort to putting these emails in separate folders.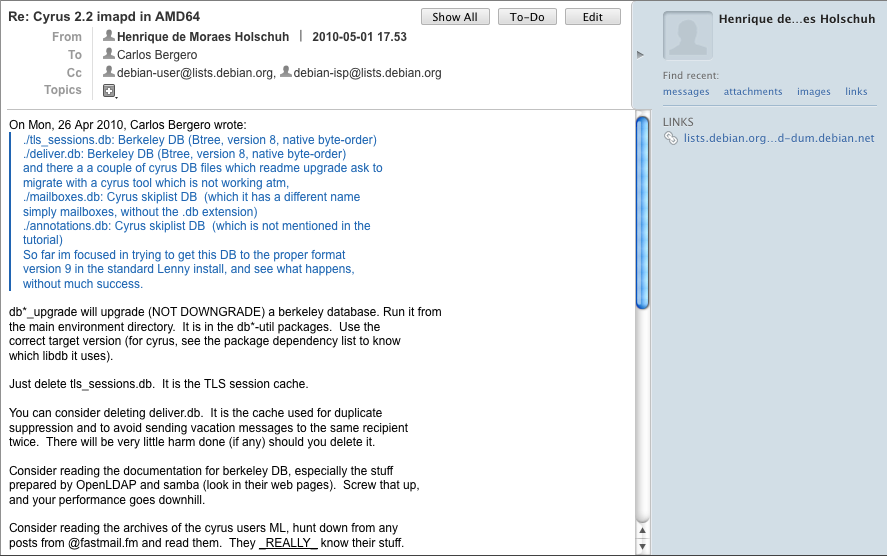 If you are not into sorting incoming email to different project folders, you will definitely enjoy the archive feature, which is available in Thunderbird as well. Pressing "a" will move the selected messages into the archive, which is a regular email folder. The thinking behind this is that since Postbox and Thunderbird index all email, you could just search for what you want.
I am personally fond of having separate folders for different projects and mailing lists. Everything else is put into the generic "archives" folder.
The latest version also features support for Things and Omnifocus, which means that it now is as easy as using Apple Mail to get emails into your GTD in-basket of choice!
If you want to purchase Postbox, please consider using my Postbox referral link. This will save you $10, and you will support this site too!