Spotify — the future of music
Spotify, now in public beta, takes a whole new approach to music. All music resides on the Spotify servers, and as a user, you stream the music using the internet.
Where it gets interesting is that you can either pay a fixed fee and listen all music you want without any interruptions. There is also a free option, where short commercial messages are inserted between songs in intervals which seem to be around half an hour.
Since the software is in public beta, you need an invite to use the service. If I happen to have an invite, I will of course share it with commenters to this post. There is another option though -- paying for the service for a month. If you like the service after using it for a month, just continue paying or terminate the subscription. Your account will then become a free account, and you can continue to use Spotify, but with the ads injected.
There is a Windows and Mac client available at this moment. There have been reports that the Windows version works fine in Linux using Wine, so definitely try it out.
So how does is look like? The following view shows what is new in Spotify.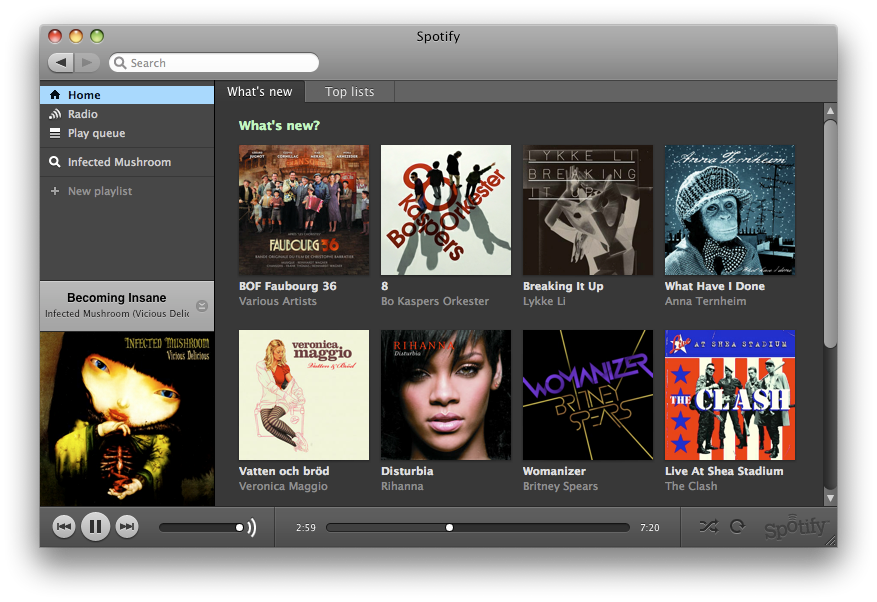 The next image shows the top list. This can be customised to only show a specific country or the whole world.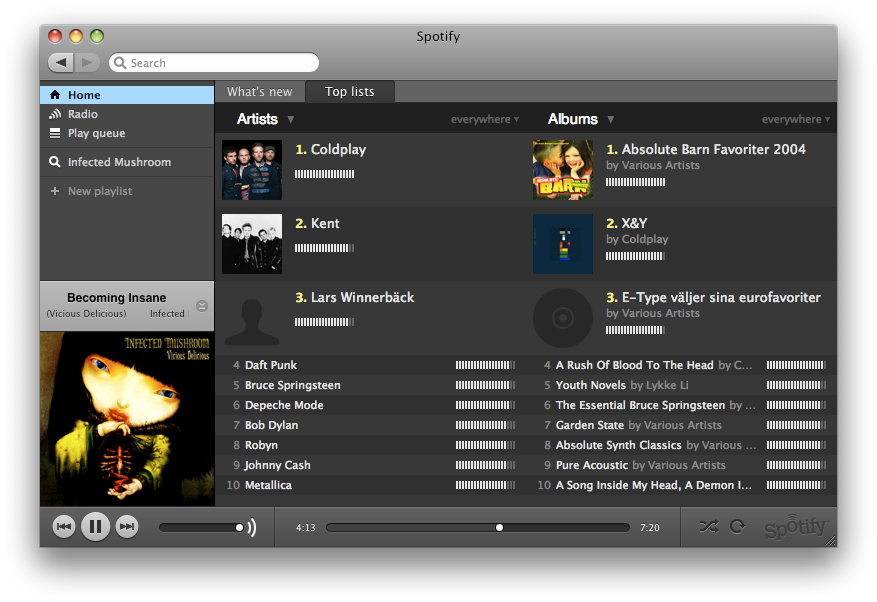 The main album view looks like the following. On the top, there are five top hits for that particular artist. It is followed by all albums available, and singles follow. The next section is devoted to albums where the current artist has one or more tracks, which are highlighted.
I have some suggestions to make Spotify even better (in no particular order):
Last.FM integration.
Music browser (browse by genre, year, artists etc.).
Mechanism to correct faulty tags.
Social part where users can share songs, playlists and watch each others listening habits.
iPhone application
Some of these points seem to be in progress right now, but time will have to tell what will happen in the future when the services goes mainstream, which I am sure they will, as long as they can provide a smooth service without interruptions and errors.